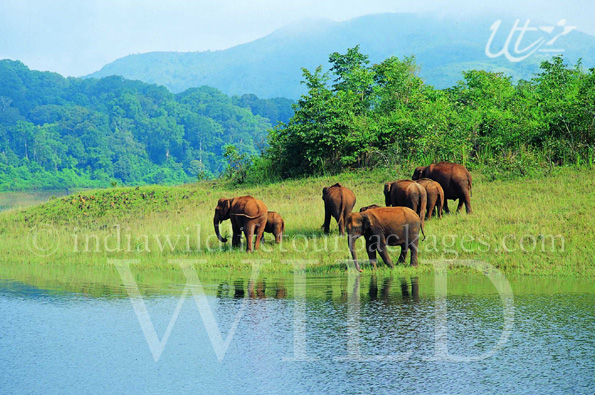 Information on Periyar/Thekkady Wildlife Sanctuary: providing on-line reservation /booking for Periyar/Thekkady Wildlife Sanctuary Wildlife Tours on discounted rates, air/rail ticketing, car/ taxi / coach hire for travel to Periyar/Thekkady Wildlife Sanctuary, wildlife Safari in Periyar/Thekkady Wildlife Sanctuary and optional extension tours to other tourist desitinations in India.
Contact us for Booking / Enquiry of Package Tours to Periyar Wildlife Sanctuary.
About Periyar Wildlife Sanctuary
The Periyar wildlife sanctuary an ideal destination for wildlife enthusiasts, Periyar is reputed as one of the most popular wildlife sanctuary in India. Visit Periyar and have a time of your life in a park that is a haven to a number of wild and feathered species. Also known as Thekkady Wildlife Sanctuary, it provides a perfect atmosphere for watching wild animals in their natural habitat.
Spread across an area of 777 sq. km Cardamom hills of Western Ghats, the Periyar wildlife sanctuary is located 137 km from Madurai. Take an excursion on the splendid artificial lake to experience the exciting wildlife of the Periyar wildlife sanctuary. The forest here slopes into the periyar lake, which serves as the waterhole for the animals where they can be spotted taking a dip or drinking the water. Boat services are available to take the visitor around the lake.
The major attractions of the Periyar National Park include Elephant, Guar, Sambhars and Tigers. A variety of other wild species including Bison, Spotted Deer, Leopards, Malabar Flyings Squirrels, Stripe necked Mongooses and countless others can also be spotted around the periyar lake. There are over 260 species of birds here, including Nilgiri Wood Pigeons, Blue-Winged Parakeets, White Bellied Tree Pies, Laughing Thrushes and Fly Catchers.
Excursions from Periyar:
Tiger Trail Nature Walk, Visit to Spice Plantations, Munnar Tea Plantations
Access to Periyar :
The nearest domestic airport and railway station of Periyar is at Madurai .
Best season to Visit Periyar :
The Park is open throughout the year & best season to visit the Periyar National Park is between October to March.
FACTFILE : Periyar Wildlife Sanctuary
Location of Periyar Wildlife Sanctuary: Kumily, Kerala, India
Area covered : 778 sq km
Main Wildlife Found In Periyar Wildlife Sanctuary : Elephant. Tiger, Leopard, Nilgiri Langur
Best Time To Visit : jun - Oct


Send Enquiry for Package Tours to Periyar Wildlife Sanctuary.