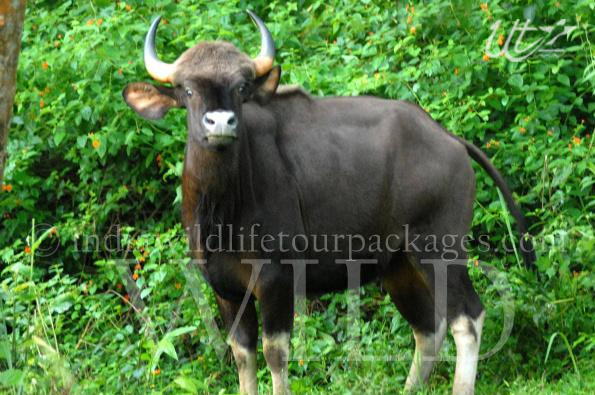 Information on Cotigao Wildlife Sanctuary: providing on-line reservation /booking for Cotigao Wildlife Sanctuary Wildlife Tours on discounted rates, air/rail ticketing, car/ taxi / coach hire for travel to Cotigao Wildlife Sanctuary, wildlife Safari in Cotigao Wildlife Sanctuary and optional extension tours to other tourist desitinations in India.
Contact us for Booking / Enquiry of Package Tours to Cotigao Wildlife Sanctuary.
About Cotigao Wildlife Sanctuary
If one wants to see multi-storeyed forests with tall trees and rare plants, where hardly any light reaches the ground, Cotigao Sanctuary is the place to go to. It touches the border of Karnataka state and in the lean season, several gaurs are known to come into Cotigao from its neighbourhood. The vegetation is mostly moist-deciduous type, interspersed with semi-evergreen and evergreen patches.
Location: It is situated in Canacona Taluka, in the south of Goa. It lies at about 2 km from Poinguinim , which is 10 km away from Canacona town. Poinguinim falls on NH -17. So the approach is very convenient.
Easiest approach: Panaji : 85 km Dabolim airport : 75 km Margao : 50 km
The Nature Interpretation Centre run by the Forest Department is a valuable repository of knowledge. At present, the Department is capable of providing rudimentary facilities like snake-proof camping sites, canvas tents, reference material and loads of goodwill. For those who really want to rough it out, there is no end of possibilities.
If you are brave enough, the Forest Dept can provide cots and mosquito-nets. The Forest Department has one two-bedded suite available at Poinguinim, 2 km. away from the Sanctuary. The dense forests, perennial streams, and picturesque undulating terrain provide for a unique wildlife refuge.
The Cotigao Wildlife Sanctuary, was established in 1969 to protect a remote and vulnerable area of forest lining the Goa- Karnataka border. Encompassing 86-sq-kms of mixed deciduous woodland, the reserve is certain to inspire tree lovers, but less likely to yield many wildlife sightings: its tigers and leopards were hunted out long ago, while the Gazelles, Sloth Bears, Porcupines, Panthers and Hyenas that allegedly lurk in the woods rarely appear.
Visitors however, stand a good chance of spotting at least two species of Monkey, a couple of Wild Boar and the odd Gaur. The sanctuary is best visited between the months of October and March. Cotigao is a peaceful and scenic park that makes a pleasant day trip from Palolem beach, 12-km northwest.
FACTFILE : Cotigao Wildlife Sanctuary
Location of Cotigao Wildlife Sanctuary: Canacona Taluka, Goa
Area covered : 86-sq-kms
Main Wildlife Found In Cotigao Wildlife Sanctuary : Monkey, a couple of Wild Boar, Gazelles, Sloth Bears, Porcupines, Panthers and Hyena
Best Time To Visit : October to March


Send Enquiry for Package Tours to Cotigao Wildlife Sanctuary.