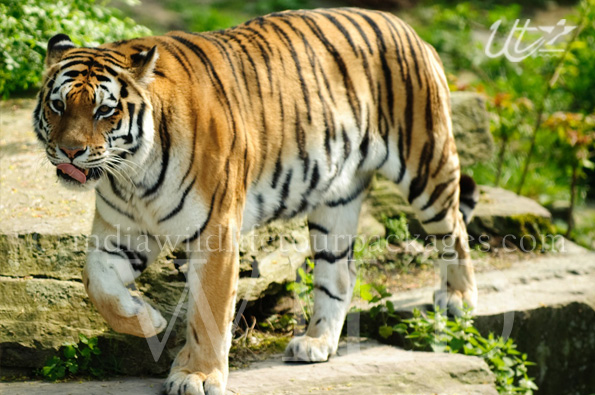 Information on Sariska Wildlife Sanctuary: providing on-line reservation /booking for Sariska Wildlife Sanctuary Wildlife Tours on discounted rates, air/rail ticketing, car/ taxi / coach hire for travel to Sariska Wildlife Sanctuary, wildlife Safari in Sariska Wildlife Sanctuary and optional extension tours to other tourist desitinations in India.
Contact us for Booking / Enquiry of Package Tours to Sariska Wildlife Sanctuary.
About Sariska Wildlife Sanctuary
Sariska became a sanctuary in the year 1958. The sanctuary came under the project Tiger in 1979 and became a national park in 1982. It is located at Kankwari fort, near Alwar, on the Delhi Jaipur Highway.
The terrain is predominantly hilly, as it lies in the Aravalli range. It has total area of 788 sq. kilometres, with a core area of approx. 47sq. kilometres.
Wildlife Attractions in Sariska Wildlife Sanctuary
Sariska National Park is known for its tigers, its most popular resident. According to the latest available data, there are about 35 tigers at Sariska. Rajasthan is a pristine platform for viewing wildlife in the country because of its two national parks and over a dozen sanctuaries. Other wildlife in the park includes sambhar, chital, wild boar, hare, nilgai, civet, four-horned antelope, gaur (Indian bison) and porcupine.
Flora
The landscape of Sariska comprises of hills and narrow valleys of the Aravali hill range. The topography of Sariska supports scrub-thorn arid forests, dry deciduous forests, rocks and grasses. The broad range of wildlife here is a wonderful example of ecological adoption and tolerance, for the climate here is variable as well as erratic, especially in terms of rainfall, which is an important source to replenish the region.
Avian Population
The bird life comprises of the pea fowl, gray partridge, quail, sand grouse, tree pie, white breasted kingfisher, golden – backed woodpecker, crested serpent eagle and great Indian horned owl.
IN AND AROUND SARISKA
Sariska Palace : Built by Marahrajas of Alwar, the palace is located within the wildlife sanctuary. Once the royal reserve of the rulers of Alwar, the palace is now converted into a hotel.
Kankwari Fort : Situated within the sanctuary, the this is a historical structure. It is the place where Mughal Emperor Aurangzeb imprisoned his brother Dara Sikoh.
Ancient Shiva Temples : The Shiva Temples dating back to the 6th -13th century is a must visit place. The temples now in ruins, offer a wonderful sight to the visitors.
Jeep Safari : Jeep Safari is the best way to explore the wildlife of Sariska Wildlife Sanctuary. The Safari can be arranged at the Forest Reception Office situated on Jaipur Road. Jeep Safari provides an excellent opportunity for wildlife watching and photography.
GETTING THERE
Air : Jaipur is nearest airport.
Road : Sariska is 35 km from Alwar, which is a convenient town to approach the sanctuary. Frequent buses ply between Sariska and Alwar. From Jaipur, Sariska is 120 km away and it takes three hours by road.