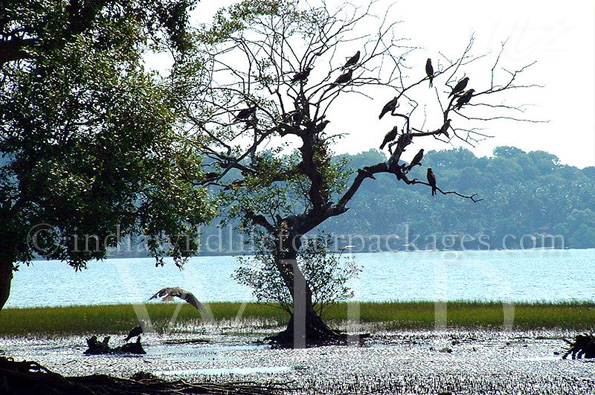 Information on Salim Ali Bird Sanctuary: providing on-line reservation /booking for Salim Ali Bird Sanctuary Wildlife Tours on discounted rates, air/rail ticketing, car/ taxi / coach hire for travel to Salim Ali Bird Sanctuary, wildlife Safari in Salim Ali Bird Sanctuary and optional extension tours to other tourist destinations in India.
Contact us for Booking / Enquiry of Package Tours to Salim Ali Bird Sanctuary.
About Salim Ali Bird Sanctuary
Salim Ali Bird Sanctuary is located on the western tip to the island of Chorao along River Mandovi, migratory and local birds inhabit the mangroves. Mangrove swamps cover this bird-watchers' paradise aptly named after India's best known ornithologist. Open throughout the year, apart from a rich variety of coastal birds, one may spot flying foxes, jackals and crocodiles.
Salim Ali Bird Sanctuary consists of mangrove forest plantations and mangrove scrubs along the small stretch of land of Mandovi and Mapusa River, and also along the Cumbarjua Canal. These water bodies are the homeland for various amphibians and crocodiles. Starting from water fowls to migratory birds, all kinds of birds can be found here. The cheerful chirping of the birds and their colors, make the air vibrant and lively.
The watch tower is the best place from where tourists can have a good view of the birds. There are some resident birds and these birds are looked after by the sanctuary, so that they can grow and regenerate in their natural habitat.
The Wildlife Department arranges tours to the sanctuary whereby the tourists can have an experience of the vibrant birdlime and their peculiarities. Dusk and dawn are the best times for bird watching, apart from that nature walks are the best way to spot birds on the tree branches and tree-tops.
How to Reach Salim Ali Bird Sanctuary
From Panaji, one can take a cab, auto or bus till the Ribandar ferry dock and take a ferry across the Mandovi River to the island. The Sanctuary is located very close to the ferry dock and identified with a signboard.
FACTFILE : Salim Ali Bird Sanctuary
Location of Salim Ali Bird Sanctuary: Island of Chorao, Goa
Area covered : 178 ha (440 acres)
Main Wildlife Found In Salim Ali Bird Sanctuary : Different kinds of birds and animals, including species such as the mudskipper and the black drongo, flying foxes, jackals and crocodiles.