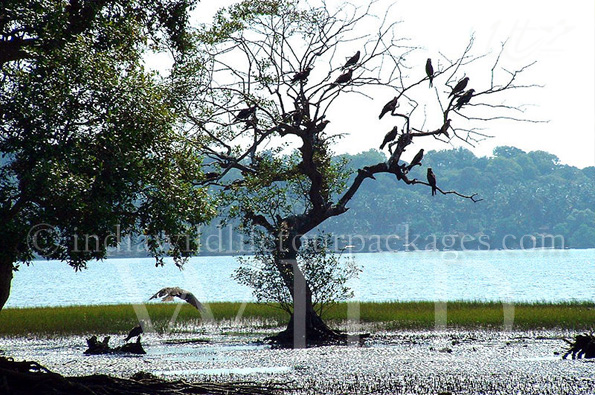 Information on Salim Ali Bird Sanctuary: providing on-line reservation /booking for Salim Ali Bird Sanctuary Bird Tours on discounted rates, air/rail ticketing, car/ taxi / coach hire for travel to Salim Ali Bird Sanctuary and optional extension tours to other tourist desitinations in India.
Contact us for Booking / Enquiry of Package Tours to Salim Ali Bird Sanctuary.
About Salim Ali Bird Sanctuary
On the western tip of the island of Chorao along River Mandovi, mangrove swamps cover this bird-watchers' paradise aptly named after India's best-known ornithologist. The "Mangrove Scrub" type of vegetation that is found here occurs in small isolated areas along the banks of Mandovi and Mapusa rivers and also along the Cumbarjua canal.
This Sanctuary is criss-crossed with a network of water channels. So movement is restricted to the duration of high tide if one wants to go by boats. However for canoes, the creeks are accessible even during low tides. A watch-tower has been erected in the Sanctuary for better viewing of birds. Apart from the several resident birds, the Sanctuary also has some winter visitors like coots and pintails.
Best Season to visit Salim Ali Bird Sanctuary
Open throughout the year, the sanctuary can be visited with the permission of the Chief Wild Life Warden, Forest Department, Junta House, Panaji. Apart from a rich variety of coastal birds, one may spot flying foxes, jackals and crocodiles.
The area consists of mangrove vegetation. They provide refuge and breeding grounds for several varieties of fish and insects which fall at the base of the food-chain.
FACTFILE : Salim Ali Bird Sanctuary
Location of Salim Ali Bird Sanctuary: Goa, India
Area covered : 25.16 sq. km.
Main Wildlife Found In Salim Ali Bird Sanctuary : Birds, Butterflies
Best Time To Visit : Nov to Jan (The sanctuary remains open round the year)
How to Reach : From Panaji , one needs to take a bus or a cab to the Ribandar ferry wharf and then take a ferry across the Mandovi river to the island of Chorao. The sanctuary is within walking distance from the ferry wharf at Chorao.