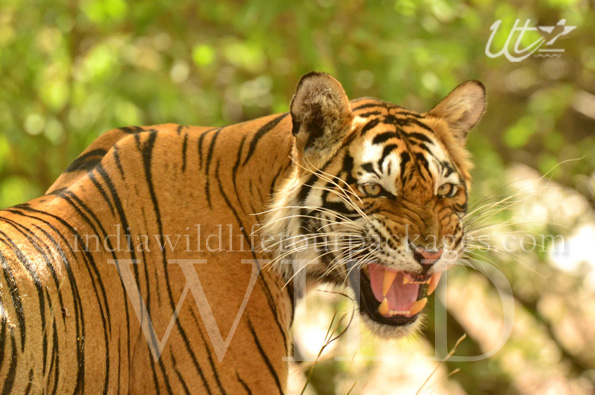 Information on Bandipur National Park : providing on-line reservation /booking for Bandipur National Park Wildlife Tours on discounted rates, air/rail ticketing, car/ taxi / coach hire for travel to Bandipur National Park, wildlife Safari in Bandipur National Park and optional extension tours to other tourist destinations in India.
Contact us for Booking / Enquiry of Package Tours to Bandipur National Park.
About Bandipur National Park
Bandipur Tiger Reserve situated in Mysore District of Karnataka State of India was among the first nine Tiger Reserves created in India at the launch of Project Tiger in 1973.
Bandipur National Park is a beautiful forest reserve located in the southern Indian state of Karnataka. This national park occupies a special place in India's efforts towards natural conservation. It was created in the 1930s from the local Maharaja Voodiyar's hunting lands, and named Venugopal Wildlife Park. Bandipur National Park was expanded later in 1941 to adjoin the Nagarhole National Park, which lay towards its northern edge, and Wynad and Madumulai Sanctuaries, which lay towards its southern edge in the states of Kerala and Tamilnadu, respectively. The entire area now constitutes the vast Nilgiri Biosphere Reserve, one of India's most extensive tracts of protected forest.
Bandipur National Park – a part of the Project Tiger, covering an area of 803 sq. kilometres is a true delight for the enthusiastic and genuine naturalist and lovers of wild life. Situated adjacent to the Wayanad plateau of Kerala, Bandipur National Park is a rich deciduous forest. It is located at an average elevation of 3500 ft. providing a salubrious climate to the Tiger, the Panther, Elephants, Gaur (Indian bison), Sambar, Sloth Bear, Wild Boar, Chital (spotted deer), Kakar (mountain deer), Wild Dog and a host of other mammals and birds. Pythons, Cobras, Kraits, Vipers and other reptiles may also be observed here with fascination.
Bandipur National Park was established in 1931 as a sanctuary, 1941 as a national park, 1973 as a tiger reserve. The drier south-east corner of Bandipur National Park has scrub forests. During the dry months of March-May, Indian Elephants stay close to rivers and lakes.
FACTFILE : Bandipur National Park
Location of Bandipur National Park: District Chamarajanagar, Karnataka, India
Area covered : 874 sq. km.
Main Wildlife Found In Bandipur National Park : Asian Elephant and Gaur
Best Time To Visit : The best season to visit would be from March-July and September-November.
How to Reach : 219 km from Bangalore 80 km from Mysore.