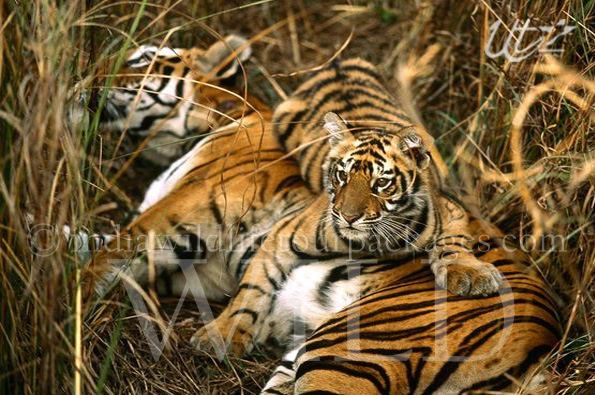 Established: 1968 as a National Park. Extended In: 1986. Became A Tiger Reserve: In 1993 Bandhavgarh National Park falls within one of India's last remaining traces of substantial forest. Originally part of the princely state Rewa, from where the few captive white tigers came, the forests around Bandhavgarh were protected for shoots and hence exist today.
Contact us for Booking / Enquiry of Package Tours to Bandhavgarh National Park.
About Bandhavgarh National Park
The National Park abounds in many of India's rarer and endangered animals; Cheetal or spotted deer, Sambar, Barking Deer, Nilgai, Black Buck, Chinkara, fore horned antelope, Gaur (the largest of the world's wild oxen), Sloth Bear, Wild Boar, Leopard and the Royal Bengal Tiger. The park and surrounding forests have a rich and varied bird life; hornbills, partridges, golden orioles, blossom headed parakeets, golden eagle, falcons, hawks and sun birds. As a park for game viewing, Bandhavgarh is considered by many, as one of the best in India. The park is undulating and situated in the Vindhya Range of hills, which stretch across central India. Many of the valleys are grasslands with bamboo clumps along the forest edge and these meadows offer amazing opportunities to the photographer, while in the jungle each encounter is an unexpected thrill.
Bandhavgarh Fort : The National park is dominated by the ancient Bandhavgarh Fort, located on a plateau and reached after a steep climb. The fort is now in ruins, its monuments and tanks beings gradually reclaimed by the forest, thus providing additional shelter for wildlife such as Black Bucks.
Elephant Safari Bandhavgarh: Wild Safari In Bandhavgarh National Park: The park can be entered on elephant back and / or in a jeep or by car. In these Safari a forest department guide always accompanies you. He will direct and tell about the flora and fauna of the park. The best time to visit the park is early in the morning or after 4 p.m.It is during this time that the animals are most active and are easily spotted.
Accessto Bandhavgarh National Park: 210 km from Khajuraho and 175km from Jabalpur
Accommodation facilities in Bandhavgarh : Jungal Camp, White Tiger Jungle Lodge, Forest, Rest House, Maharaja's Hunting Lodge
Best time to visit Bandhavgarh National Park: November to March and May-Jun (The park remains closed between July and October)
FACTFILE : Bandhavgarh National Park
Location of Bandhavgarh National Park: Umaria District, Madhya Pradesh, India
Area covered : 437 sq. kms / 44,884 hectares/ 168 sq. miles
Main Wildlife Found In Bandhavgarh National Park : Tigers, Leopards, Bears



Send Enquiry for Package Tours to Bandhavgarh National Park.